Aceclofenac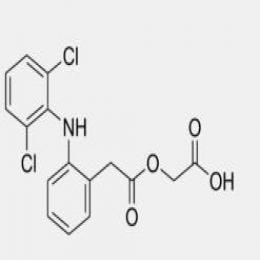 Cas No.: 89796-99-6 
Molecular formula: C16H13Cl2NO4 
Molecular Weight: 354.2
Aceclofenac is used to relieve pain and inflammation in arthritic conditions. All the medicines in this group reduce inflammation caused by the body's own immune system and are effective pain killers.Aceclofenac is an orally administered phenylacetic acid derivative with effects on a variety of inflammatory mediators.Aceclofenac is also effective in other painful conditions (e.g. dental and gynaecological).
For more information OR other specifications of the products, please contact us.
Send Enquiry Online
For more information OR other products. Please contact us by Email, Tel or Send online enquiry. We will reply you as soon as possible.
1. E-mail: se(at)serebiomedical.com
2. Tel: +1 571 572 9408
3. WhatsApp: +1 571 572 9408
You may also be interested in: