Simvastatin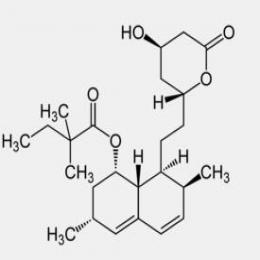 CAS No.:79902-63-9
Molecular formula:C25H38O5 
Molecular weight:418.566 g/mol
Simvastatin is a cholesterol-lowering medicine. It inhibits the production of cholesterol by the liver. It lowers overall blood cholesterol.Simvastatin is a white to off-white, nonhygroscopic, crystalline powder that is practically insoluble in water, and freely soluble in chloroform, methanol and ethanol.
For more information OR other specifications of the products, please contact us.
Send Enquiry Online
For more information OR other products. Please contact us by Email, Tel or Send online enquiry. We will reply you as soon as possible.
1. E-mail: se(at)serebiomedical.com
2. Tel: +1 571 572 9408
3. WhatsApp: +1 571 572 9408
You may also be interested in: