Furosemide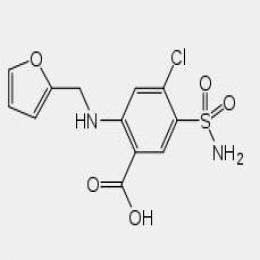 Cas No.:54-31-9
Molecular formula:C12H11ClN2O5S 
Molecular Weight:330.745 g/mol
Furosemide is a loop diuretic drug.This drug prevents the absorption of chloride, sodium, potassium and water, leading to an increased volume of urine. This assists the kidneys in removing excessive fluid.Furosemide is most often used in the treatment of heart failure. It is a potent diuretic drug.Furosemide is used to reduce fluid accumulation and prevent further edema from forming. It is primarily used to treat heart failure and pulmonary edema (lung fluid). It is also used to treat some electrolyte imbalances, such as high calcium and high potassium levels, because the diuretic effect improves elimination of these ions.
For more information OR other specifications of the products, please contact us.
Send Enquiry Online
For more information OR other products. Please contact us by Email, Tel or Send online enquiry. We will reply you as soon as possible.
1. E-mail: se(at)serebiomedical.com
2. Tel: +1 571 572 9408
3. WhatsApp: +1 571 572 9408
You may also be interested in: