Ciprofloxacin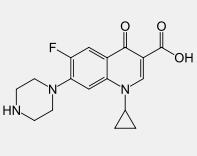 CAS NO:85721-33-1
Molecular formula:C17H18FN3O3 
Molecular weight:331.346
Description:
Ciprofloxacin is a synthetic antibiotic.Ciprofloxacin is bactericidal and its mode of action depends on blocking of bacterial DNA replication by binding itself to an enzyme called DNA gyrase. Ciprofloxacin is used to treat infections of the skin, lungs, airways, bones, and joints caused by susceptible bacteria. Ciprofloxacin is also frequently used to treat urinary infections caused by bacteria such as E. coli. Ciprofloxacin is effective in treating infectious diarrheas caused by E. coli, campylobacter jejuni, and shigella bacteria.
For more information OR other specifications of the products, please contact us.
Send Enquiry Online
For more information OR other products. Please contact us by Email, Tel or Send online enquiry. We will reply you as soon as possible.
1. E-mail: se(at)serebiomedical.com
2. Tel: +1 571 572 9408
3. WhatsApp: +1 571 572 9408
You may also be interested in: