Clopidogrel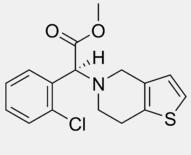 CAS NO:113665-84-2
Molecular formula:C16H16ClNO2S  
Molecular weight:321.82 g/mol
Description:
Clopidogrel prevents platelets (substances in the blood) from clustering. This helps to prevent blood from forming blood clots. Clopidogrel is used in the prevention and treatment of heart attack, stroke, blood clots, and acute coronary syndrome. Clopidogrel is used to prevent strokes and heart attacks in persons who are at high risk.
For more information OR other specifications of the products, please contact us.
Send Enquiry Online
For more information OR other products. Please contact us by Email, Tel or Send online enquiry. We will reply you as soon as possible.
1. E-mail: se(at)serebiomedical.com
2. Tel: +1 571 572 9408
3. WhatsApp: +1 571 572 9408
You may also be interested in: