Lansoprazole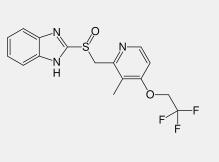 CAS NO:103577-45-3
Molecular formula:C16H14F3N3O2S 
Molecular weight:369.363 g/mol
Description:
Lansoprazole is a white to brownish-white odorless crystalline powder which melts with decomposition at approximately 166°C. Lansoprazole is freely soluble in dimethylformamide; soluble in methanol; sparingly soluble in ethanol; slightly soluble in ethyl acetate, dichloromethane and acetonitrile; very slightly soluble in ether; and practically insoluble in hexane and water.Lansoprazole is an acid proton-pump inhibitor. It is used for the short-term treatment of duodenal ulcers or erosive esophagitis, and for long-term treatment of a pathological hypersecretory condition known as Zollinger-Ellison syndrome.Lansoprazole decreases the amount of acid produced in the stomach. 
For more information OR other specifications of the products, please contact us.
Send Enquiry Online
For more information OR other products. Please contact us by Email, Tel or Send online enquiry. We will reply you as soon as possible.
1. E-mail: se(at)serebiomedical.com
2. Tel: +1 571 572 9408
3. WhatsApp: +1 571 572 9408
You may also be interested in: