Rifampicin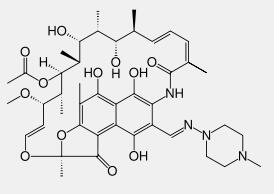 CAS NO:13292-46-1
Molecular formula:C43H58N4O12 
Molecular weight:822.94 g/mol
Description:
Rifampicin is a semisynthetic antibiotic derived from Rifamycin.Significantly is active against a large number of gram positive and gram negative microorganism. The drug has also been used in the treatment of leprosy, with encouraging results, particularly in cases where there is growing resistance to Dapsone, another drug.
For more information OR other specifications of the products, please contact us.
Send Enquiry Online
For more information OR other products. Please contact us by Email, Tel or Send online enquiry. We will reply you as soon as possible.
1. E-mail: se(at)serebiomedical.com
2. Tel: +1 571 572 9408
3. WhatsApp: +1 571 572 9408
You may also be interested in: