Sibutramine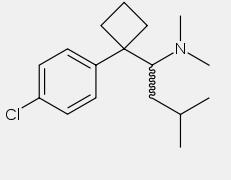 CAS NO:106650-56-0
Molecular formula:C17H26ClN 
Molecular weight:279.85 g/mol
Description:
Sibutramine is used in the management of obesity by increasing the amount of neurotransmitters serotonin and norepinephrine. Sibutramine inhibits the re-uptake of these neurotransmitters by the nerve cells and alters the balance of neurotransmitters within the nerve cells. Sibutramine is similar to anti-depressants (fluoxetine) which inhibit reuptake of serotonin.
For more information OR other specifications of the products, please contact us.
Send Enquiry Online
For more information OR other products. Please contact us by Email, Tel or Send online enquiry. We will reply you as soon as possible.
1. E-mail: se(at)serebiomedical.com
2. Tel: +1 571 572 9408
3. WhatsApp: +1 571 572 9408
You may also be interested in: