Spironolactone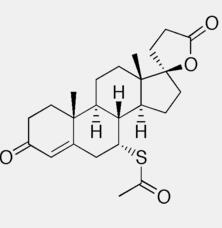 CAS NO:52-01-7
Molecular formula:C24H32O4S 
Molecular weight:416.574 g/mol
Description:
Spironolactone is used as a diuretic to remove the excess fluid caused by congestive heart failure, cirrhosis of the liver, and kidney disease. It can also be used to treat elevated blood pressure in combination with other drugs and in resistant cases of low potassium (hypokalemia). Spironolactone is also used to counteract the effects of excessive adrenal aldosterone production.Spironolactone is a specialized antagonist of aldosterone.
For more information OR other specifications of the products, please contact us.
Send Enquiry Online
For more information OR other products. Please contact us by Email, Tel or Send online enquiry. We will reply you as soon as possible.
1. E-mail: se(at)serebiomedical.com
2. Tel: +1 571 572 9408
3. WhatsApp: +1 571 572 9408
You may also be interested in: